Become a Student Leader
Almost everything we do at Newcastle College University Centre is based on our principle of Student as Producer. This means we consider you a partner within our higher education community. Our Student Leaders Programme celebrates and brings together the concept of Student as Producer by encouraging you to get involved and be an active member of our higher education community. The Programme is designed to give you the opportunity to undertake research or similar activities within your discipline and across the college, allowing you to have a positive impact on the student experience and contribute to the wider student community, all whilst gaining valuable employability skills and often a generous bursary.
There is no one way to be a Student Leader: we're committed to celebrating and representing the diversity of our student community and below you will find the different ways you can get involved and make a difference. By becoming a Student Leader you're demonstrating your commitment to working with us to improve college life and your own future prospects – we look forward to joining you on this journey.
Other Opportunities
Becoming a student representative gives you the opportunity to be directly involved in decisions concerning the future of Newcastle College University Centre at individual, programme and college wide levels. Student reps are elected by their classmates and, once in place, you will be offered full training and ongoing support to help you to develop your leadership and debate skills and to get the best from this role.
Student Representative Handbook 2021-2022
For further information about becoming a class rep, please speak to your course leader or contact HEstudent@ncl-coll.ac.uk
The 2020/2021 cycle of our Student Representative System has seen us welcome 18 Curriculum Representatives who are here to make sure your ideas and voices are heard across all levels of our Representative system. Most importantly at the most senior level, University Centre Forum, where they sit in front the Head of HE and the Director of HE for NCG!
Each week we will be introducing you to a different Curriculum Representative so you get to know who they are- keep checking back to see who is being added and who is your Curriculum Rep so you can reach out and make your Student Voice matter!
Business Curriculum Rep, Billy Tolan Brown: Meet Billy!
Education Curriculum Rep, Megan Dobson-Armstrong: Meet Megan!
The Students' Union is the heart of the student community and offers you the chance to get involved in big issues and have your voice heard on things that really matter to you. You can become part of the Students' Union Executive by running in annual elections and becoming an officer. Officers have responsibilities in specific areas covering a range of issues such as equal opportunities, LGBT+, higher education and many more. For further information on becoming involved with your SU, please contact our Students' Union Coordinator Stephen Ferrell or the Students' Union President Liam Reilly at nclcollstudentunion@ncl-coll.ac.uk or drop in to see them at the SU office in the Rutherford Building (Rye Hill Campus)
Featured Fellow 2021-2022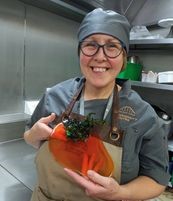 Hi, my name is Angela and I'm a mature student studying L4 Culinary Arts part-time in the University Centre. I studied Level 2 and 3 within the college so I thought it would make sense to attend Level 4 here as well. I'm finding the course very challenging, but at the same time I am loving it – especially the patisserie side of the kitchen. The tutors are great, and really encouraging for pushing you to improve and bringing your own style into the dish.  My aim is to stay on to complete Level 5/6 then look at opening a small business.
I fell into the student fellowship role when, on induction day, my lecturer explained to the group who the Transition Fellows were and he suggested I applied. I hadn't heard of the fellows until then, but decided to apply. I'm pleased I did.  Even though I'm a people person, I'm not that confident in pushing myself out of my comfort zone, so I decided it would be a good way to build my confidence as well as being a great addition to support my CV. I completed the four-week role, and at the end I applied to stay on as an NCUC Fellow for the whole year.
Fellows are the students' voice, and, since being in the role, I have seen how important that voice is. They strive for equality for each individual student and help to implement your ideas and suggestions – supporting those who are viable making improvements to student life. It is a nice feeling that, as a fellow, the ideas you put forward could effectively help students in the years to come.
I am really enjoying the role. NCUC staff give you all the support you need, whether it be in person or on Teams, and members of the NCUC Fellow group are really friendly. I've met some lovely people, and, apart from the serious work, we also have a laugh. If I'm truthful I actually look forward to meeting the fellows every Wednesday (it's a break from my studies!) I agreed with the group to attend an academic board meeting on Teams, and, although I was nervous, everyone was so friendly and I ended up really enjoying it. It really opened my eyes as to how much planning and thought goes on behind the scenes to run the college, and how much the student is at the forefront of all the changes. It actually made me feel proud to be a student within NCUC, and I've since attended another Teams meeting and equally enjoyed that.
There isn't really one individual thing I'm looking forward to, but, if I had to choose, I'd say the upcoming ethics panels. Being a fellow has definitely helped me with confidence when speaking out – making me feel valued and part of a team.
It is a privilege to be involved.
My name is Carl Huscroft-Bell, and I am doing a Foundation degree in Children and Young People. Now in my second year, the course is about the stepping stones to enhance career opportunities in schools, early years settings, youth work, and working with children with Special Educational Needs. The course provides an insight into safeguarding, the stages in the curriculum, and working with parents and families, while also providing opportunities for professional development and small work-based research projects to get you ready for dissertation level (if you decide to do a top up with a Level 6). I have found most of the modules interesting, and they have helped with my further knowledge, as well as giving me an insight in to the job role I would like to do.
The NCUC Student Fellowship was an opportunity for me to gain more professional skills, for example talking in committee meetings with management team, observe how management teams work as eventually I see this for me as a career opportunity in my chosen field. I was also aware that there might be opportunities to organise events and be part of them and possible presentation opportunities. Being an NCUC Fellow therefore provides me with transferable skills to add to my CV.
I am enjoying my time as a Fellow as it is giving me opportunities and exposure into what happens behind the scenes. With the college wanting to have student input, I feel that our voice is being heard. I enjoy meeting other students on different courses, and hearing how their own journey is going. It is nice to be a part of the NCUC community, and I have enjoyed listening to plans for future students and being part of this development. I have also enjoyed being involved in the committee meetings, whilst my involvement with the planning Expo_22 in early 2022 is something I am looking forward to.
Being an NCUC Fellow helped me with my confidence. It has also taught me how to be more professional, how to communicate with others, and how to consider other people's views and opinions. I am sure there will be more experiences to come, and
I would encourage anyone thinking about becoming involved in the Student Fellowship Scheme to give it a go. It provides you with good skills to add to your CV (potentially making you stand out from others), while the opportunity to push yourself out of your comfort zone helps to build your confidence and resilience. You also have the potential to make changes for students that attend after you – your feedback is central to the continued development of the student experience at NCUC. Finally, some fellowships schemes come with a small amount of earnings, giving you that little bit of extra cash on the side.
I would describe being a fellow as being part of a wider community that provides a variety of opportunities to develop useful transferrable skills.
Featured Fellow 2020-2021